Fans CCZ Range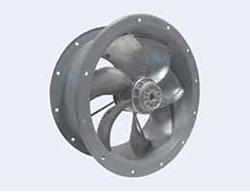 The ducted axial fans of CCZ series are used for ducted installations requiring large airfl ow with relatively low pressure drop, like ventilation and cooling systems in industrial, naval, commercial, civil, energetic fi elds. These fans are particularly easy to install and to maintain thanks to their compact size and the total absence of protruding parts. The motor-impeller groups are perfectly speed controllable and ensure low noise running. The series consists of 6 different sizes with impeller diameter from 310 to 560mm. The fans are suitable for conveying clean air with temperature from -25°C to +60°C.
Compliant with Erp Directive and EU Regulation 327/2011 (FAN) Measurement category: C
Efficiency category: Static
According to EN ISO 5801 / AMCA 210.
How to add to your estimate:

Select the model you wish to order from the table
Click the 'Add To Basket' button
To edit quantities click the 'View Order' button at the top of the page
CCZ / SINGLE PHASE 310-350
Code
Model
U
PM (kW)
In (A)
IIf400v
IP/CL
Order
1CC0030
314
M
0.10
0.42
3
54/F
SELECT

ED

1CC0035
354
M
0.12
0.56
5
54/F
SELECT

ED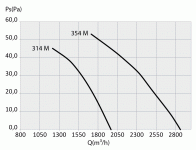 CCZ 400-450-500
Code
Model
U
PM (kW)
In (A)
uf400v
IP/CL
Order
1CC0040
404
M
0.24
1.05
5
54/F
SELECT

ED

1CC0045
454
M
0.60
2.90
7
44/F
SELECT

ED

1CC0050
504
M
0.72
3.20
16
54/F
SELECT

ED
CCZ 400
Code
Model
U
P
PM (kW)
In (A)
IP/CL
Order
1CC0041
404
T
4
0.23 0.17
0.46 2.27
54/F
SELECT

ED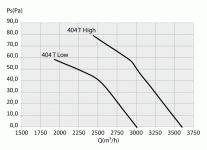 CCZ 450
Code
Model
U
P
PM (kW)
In (A)
IP/CL
Order
1CC0046
454
T
4
0.54 0.36
1.10 0.66
44/F
SELECT

ED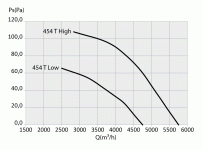 CCZ 500
Code
Model
U
P
PM (kW)
In (A)
IP/CL
Order
1CC0051
504
T
4
0.84 0.54
1.45 0.96
54/F
SELECT

ED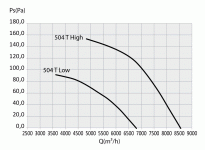 CCZ 560
Code
Model
U
P
PM (kW)
In (A)
IP/CL
Order
1CC0056
564
T
4
1.56 0.58
2.20 1.10
54/F
SELECT

ED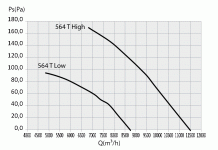 | | A | B | C | D | E | F | Kg |
| --- | --- | --- | --- | --- | --- | --- | --- |
| CCZ 310 | 200 | 305 | 355 | 395 | 8 | 10 | 10 |
| CCZ 350 | 200 | 355 | 395 | 446 | 8 | 10 | 13 |
| CCZ 400 | 230 | 405 | 450 | 496 | 8 | 12 | 16 |
| CCZ 450 | 230 | 455 | 500 | 546 | 8 | 12 | 23 |
| CCZ 500 | 250 | 505 | 560 | 598 | 12 | 12 | 26 |
| CCZ 560 | 250 | 565 | 620 | 658 | 12 | 12 | 30 |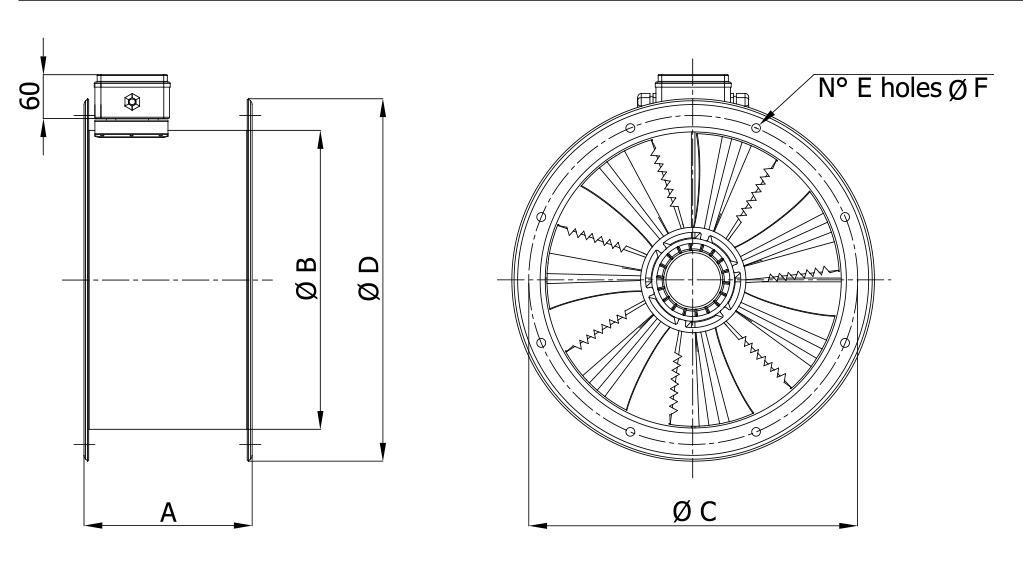 CONSTRUCTION
Casing in steel sheet, protected against atmospheric agents by epoxy paint.
Single-phase electric ball-bearing motor with non-self resetting thermal cut-out, particularly suitable for speed regulation (using the suitable speed regulators shown in this catalogue).
Backward curved centrifugal impeller with high efficiency and low noise level. Statically and dynamically balanced according to ISO 1940
Down stream guide vanes, for improved efficiency.
External electric connections enclosed in a terminal box in self-extinguishing technopolymer, with IP54 protection.
Comply with EN 60335-2-80, B.T. 2006/95/CE, EMC 2004/108/CE